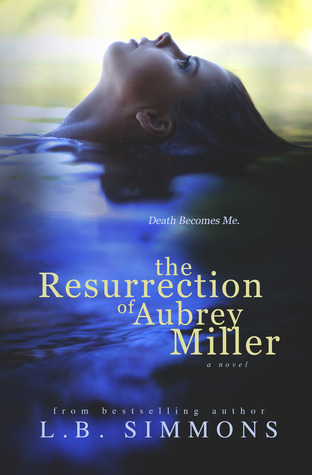 The Resurrection of Aubrey Miller
Author: L.B. Simmons
Publication Date: April 23, 2014
Genre: New Adult, Contemporary Romance, Fiction
Goodreads Synopsis:
Death.

For some, it's simply one of life's certainties, nothing more. For others, it's merely a fleeting thought, one often overshadowed by the reckless delusion that they have been blessed with the gift of immortality.

For Aubrey Miller, death is the definition of her very existence. Overcome with the guilt resulting from the loss of her beloved family, she alters her appearance from the once beautiful, blonde-haired, blue-eyed little girl to that of one shrouded in complete darkness, enveloping herself in her own unbreakable fortress of solitude as a form of protection for others.

As she enters her first year of college, her goal is simple: Earn a degree with the least amount of social interaction as possible. What she never anticipates is the formation of very unlikely relationships with two people who will change her life in ways she never believed possible: Quinn Matthews, the boisterous former pageant queen, and Kaeleb McMadden, a childhood friend from her past who never really let her go.

Over the years, as their connections intertwine and grow, a seemingly indestructible bond is formed between the three…

But when death painfully reemerges, Aubrey is lost once again, burying herself deeper than ever before inside the familiar fortification of her fears.

Will the refuge of friendship, the solidarity of life-long bonds, and the power of unconditional love be enough to do the impossible?

Will they be enough to finally bring about…

The Resurrection of Aubrey Miller?

****Standalone NA Contemporary Romance/HEA****

****WARNING – Due to the graphic nature of some scenes, this book is intended for mature audiences only. Contains adult language and themes.****
---
★ ★ ★ ★ ☆
---
Earlier this week I reviewed Out of Focus by L.B. Simmons. In Out of Focus, I briefly got to meet Aubrey Miller. I was instantly curious about her. She was a little mysterious. My curiosity became even greater when I read the free preview of The Resurrection of Aubrey Miller at the end of the book. I was so drawn in by the beginning that I immediately downloaded it.
Aubrey was an interesting character. She purposely chose a new persona (Raven) for herself in order to survive her past. She hid behind the look she chose hoping no one would break down her walls. It was really sad to see her take the blame for all the wrongs in her life. She was so broken.
Luckily, her roommate Quinn and her long-lost friend Kaeleb could see beyond her mask. Quinn and Kaeleb did everything they could do help Aubrey rediscover herself. Their friendship gave Aubrey the strength she needed to believe in life again.
I loved how opposite of Raven Quinn was. Her bubbly personality and own struggles added a lot to the story. And Kaeleb. *Swoon* I was surprised at how amazing he was and how far he was willing to go for Aubrey. He knew that behind Raven's self-made wall there was an amazing person who deserved to be loved.
The Resurrection of Aubrey Miller was a dark New Adult romance. It was angst-filled and sometimes depressing, but it was also filled with hope. I really enjoyed reading it and unlocking the mystery of Aubrey Miller.