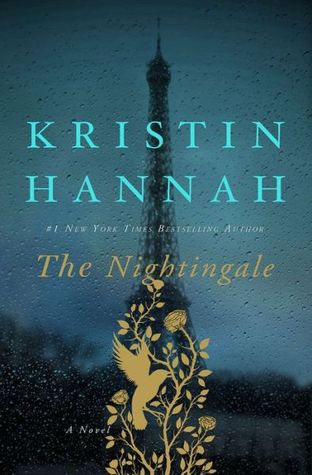 The Nightingale by Kristin Hannah
Publication Date: February 3, 2015
Publisher: St. Martin's Press
Synopsis:
It's 1939 and war is raging in Europe. France has been preparing for war, trying to keep Hitler's army out of its boarders. In the village of Carriveau, the Mauriac sisters are driven apart by their views on the war.
Vianne, the elder of the two, does not believe war will come to France. Even has her husband is sent off to war, Vianne chooses to believe life will go on as it has been. But when the Nazis invade her village, Vianne can no longer deny it. War has come to France. She must do everything in her power to keep herself and her daughter alive.
Vianne's younger sister, Isabelle, does not agree with Vianne's stance. Eighteen-year-old Isabelle would rather meet the war head on than mearly try to survive. She joins the Resistance and spends her time trying to save others.
As the war rages on, Vianne and Isabelle will make choices that tear them apart and pull them back together.
---
My rating: 5 out 5 stars
---
To be honest, I avoided reading The Nightingale. I wanted to read it, but I didn't want to read it. I love Kristin Hannah's books, but I heard it was a little slow and a lot sad. I checked it out twice from the library. The first time, I had to return the hardback before I had a chance to read it. Really, I just wasn't in the mood. The second time, I checked out an electronic copy. I only read 18  pages before it magically returned itself. Then, my friend let me borrow her copy. It sat on my counter for two weeks before I picked it up. I'm really sad I waited so long to read it. It was really, really good.
I feel like no matter what I write about The Nightingale, it won't adequately reflect my feelings about this book. It was heart breaking. It was beautiful. It was captivating. I couldn't put it down.
I can tell The Nightingale is going to be a book that sticks with me long after I have finished reading it. Kristin Hannah did a wonderful job weaving the French history of World War II into her story. The Nightingale may have been fiction, but I could easily imagine it being real. It's a devastating thought because the history of World War II is so devastating. It happened and a lot of people died. There's no avoiding the truth of it all.
The Nightingale is a book I would recommend to readers who enjoyed Sarah's Key by Tatiana de Rosnay. I would also recommend it to those reader who like historical fiction or just a really amazing book.