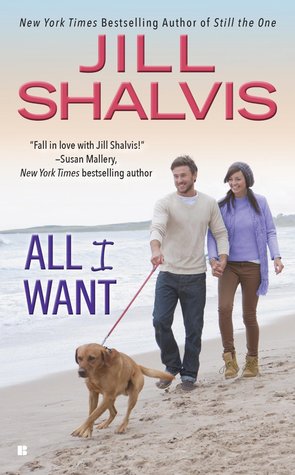 All I Want (Animal Magnetism #7) by Jill Shalvis
Publication Date: October 6, 2015
Publisher: Berkley 
Synopsis:
Pilot Zoe Stone is ready for a real relationship. No more quick hook-ups or crappy men. She's going to find the perfect guy and settle down in her favorite Idaho town of Sunshine.
When her brother Wyatt's best friend Parker comes to stay with her for a week, Zoe's plans to find a nice, stable guy are thrown out the window. There's a mutual attraction and chemistry between them that can't be denied. But Zoe and Parker both know their relationship can't last. Zoe's tied to Sunshine and Parker's tied to his job as a U.S. Fsh and Wildlife special agent.
---
My rating: 4 out of 5 stars
---
Okay, I'm going to complain about this beautiful cover. It's beautiful and I love it but there is no beach in the book. It takes place in Idaho. That kind of drives me a little nuts.
As for the actual story, it started off really great. It had Jill Shalvis' trademark humor from the start. Zoe and Parker's chemistry was hot. The way they were trying not to fall for each other was cute. My favorite part of their non-relationship was their banter. It made me smile so much.
Then, the story kind of lost me for a bit. Parker's job took over. His job didn't interest me as much as his relationship with Zoe did. I know those parts were necessary for the build up, but they took a little something away from the book for me. I wanted a humorous romance. I got that, but I felt like I also got a little romantic suspense. I guess I just wanted more Zoe – Parker banter.
I did like the ending, though. It revolved around Parker's side story, but it included Zoe and I think that made the difference.
Overall, I truly did enjoy All I Want. It was a good addition to a fun series. I'm looking forward to seeing which character is going to get their own story next!
If you're looking for a great contemporary romance series, I would highly suggest the Animal Magnetism series. The books can be read in order or as a standalone.
Other books in this series: