Top Ten Tuesday is an original weekly feature created at The Broke and the Bookish. This week's theme is Ten Books To Read If You Like This Super Popular Book/Author. I know it's probably going to be a popular choice, but I'm going with Ten Books To Read If You Like Author Colleen Hoover's Books.
I love the way Colleen Hoover's books make me feel. Every time I read one of her books, my heart is broken and put back together in the most amazing ways. The books/authors I've chosen on this list all do the same thing. I feel blessed to have found all of these authors and their beautiful books.
I've included the book blurb for each book from Goodreads, in case anyone is interested in knowing what each book is about.
---
 1. Falling Into You (Falling #1) by Jasinda Wilder
I wasn't always in love with Colton Calloway; I was in love with his younger brother, Kyle, first. Kyle was my first one true love, my first in every way.

Then, one stormy August night, he died, and

the person I was died with him.

Colton didn't teach me how to live. He didn't heal the pain. He didn't make it okay. He taught me how to hurt, how to not be okay, and, eventually, how to let go.
 2. Sincerely, Carter by Whitney G.
Just friends.
We're just friends.
No, really. She's just my best friend…

Arizona Turner has been my best friend since fourth grade, even when we "hated" each other. We've been there for one another through first kisses, first "times," and we've been each other's constant when good relationships turned bad. (We even went to colleges that were minutes away from each other…)

Throughout the years, and despite what anyone says, we've never crossed the line.

Never thought about it.
Never wanted to.

Until one night changed everything.
At least, it should've …

Just friends.
We're just friends.
I'm only saying this until I figure out if she's still "just" my best friend…
 3. Kaleidoscope Hearts (Hearts #1) by Claire Contreras
He was my older brother's best friend.
He was never supposed to be mine.
I thought we would get it out of our system and move on.

One of us did.
One of us left.

Now he's back, looking at me like he wants to devour me. And all those feelings I'd turned into anger are brewing into something else, something that terrifies me.
He broke my heart last time.
This time he'll obliterate it.
 4. Archer's Voice by Mia Sheridan
When Bree Prescott arrives in the sleepy, lakeside town of Pelion, Maine, she hopes against hope that this is the place where she will finally find the peace she so desperately seeks. On her first day there, her life collides with Archer Hale, an isolated man who holds a secret agony of his own. A man no one else sees.

Archer's Voice is the story of a woman chained to the memory of one horrifying night and the man whose love is the key to her freedom. It is the story of a silent man who lives with an excruciating wound and the woman who helps him find his voice. It is the story of suffering, fate, and the transformative power of love.
 5. Wild Reckless by Ginger Scott
Kensington Worth had a vision for her senior year. It involved her best friends, her posh private school in downtown Chicago and time alone with her piano until her audition was perfected, a guaranteed ticket into the best music programs in the world.

Instead, a nightmare took over.

It didn't happen all at once, but her life unraveled quickly—a tiny thread that evil somehow kept pulling until everything precious was taken from her. She was suddenly living miles away from her old life, trapped in an existence she didn't choose—one determined to destroy her from the inside, leaving only hate and anger behind. It didn't help that her neighbor, the one whose eyes held danger, was enjoying every second of her fall.

Owen Harper was trouble, his heart wild and his past the kind that's spoken about in whispers. And somehow, his path was always intertwined with Kensington's, every interaction crushing her, ruining her hope for any future better than her now. Sometimes, though, what everyone warns is trouble, is exactly what the heart needs. Owen Harper was consumed with darkness, and it held onto his soul for years. When Kensington looked at him, she saw a boy who'd gotten good at taking others down when they threatened his carefully balanced life. But the more she looked, the more she saw other things too—good things…things to admire.

Things…to love. Things that made her want to be reckless.

And those things…they were the scariest of all.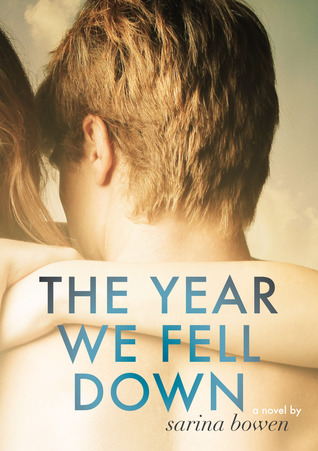 6. The Year We Fell Down (The Ivy Years #1) by Sarina Bowen
She expected to start Harkness College as a varsity ice hockey player. But a serious accident means that Corey Callahan will start school in a wheelchair instead.

Across the hall, in the other handicapped-accessible dorm room, lives the too-delicious-to-be real Adam Hartley, another would-be hockey star with his leg broken in two places. He's way out of Corey's league.

Also, he's taken.

Nevertheless, an unlikely alliance blooms between Corey and Hartley in the "gimp ghetto" of McHerrin Hall. Over tequila, perilously balanced dining hall trays, and video games, the two cope with disappointments that nobody else understands.

They're just friends, of course, until one night when things fall apart. Or fall together. All Corey knows is that she's falling. Hard.

But will Hartley set aside his trophy girl to love someone as broken as Corey? If he won't, she will need to find the courage to make a life for herself at Harkness — one which does not revolve around the sport she can no longer play, or the brown-eyed boy who's afraid to love her back.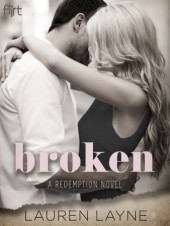 7. Broken (Redemption #1) by Lauren Layne
When Olivia Middleton abandons the glamour of Park Avenue for a remote, coastal town in Maine, everyone assumes she's being the kind do-gooder she's always been. But Olivia has a secret: helping an injured war veteran reenter society isn't about charity—it's about penance. Only, Olivia's client isn't the grateful elderly man she's expecting. Instead, he's a brooding twenty-four-year-old who has no intention of being Olivia's path to redemption . . . and whose smoldering gaze and forbidden touch might be her undoing.

Paul Langdon doesn't need a mirror to show him he's no longer the hotshot quarterback he was before the war. He knows he's ugly—inside and out. He'll do anything to stay in self-imposed exile, even accept his father's ultimatum that Paul tolerate the newest caretaker for three months or lose his inheritance. But Paul doesn't count on the beautiful twenty-two-year-old who makes him long for things that he can never have. And the more she slips past his defenses, the more keeping his distance is impossible.

Now Paul and Olivia have to decide: Will they help each other heal? Or are they forever broken?
 8. Left Drowning by Jessica Park
Weighted down by the loss of her parents, Blythe McGuire struggles to keep her head above water as she trudges through her last year at Matthews College. Then a chance meeting sends Blythe crashing into something she doesn't expect—an undeniable attraction to a dark-haired senior named Chris Shepherd, whose past may be even more complicated than her own. As their relationship deepens, Chris pulls Blythe out of the stupor she's been in since the night a fire took half her family. She begins to heal, and even, haltingly, to love this guy who helps her find new paths to pleasure and self-discovery. But as Blythe moves into calmer waters, she realizes Chris is the one still strangled by his family's traumatic history. As dark currents threaten to pull him under, Blythe may be the only person who can keep him from drowning.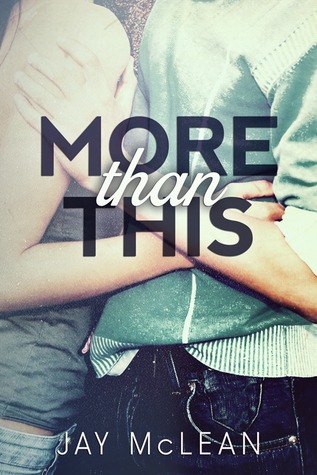 9. More Than This (More Than #1) by Jay McLean
When Mikayla imagined her prom night, she envisioned a fairy-tale evening full of romance. So when betrayal and tragedy come in quick succession, Mikayla is completely destroyed. Suddenly, everything she loved and everyone she relied on are tragically, irrevocably gone.

Jake, a handsome boy she just met, happens to witness her loss. With no one to turn to, Mikayla is forced to depend on this near stranger and his family, and he in turn is determined to take care of her. But Mikayla—thrust into adulthood with no one to guide her—is desperate to contain her grief and hide what she considers to be her weakness. Mikayla and Jake both want more, but despite their growing closeness and intense chemistry, she tries to keep her distance and protect her heart. As he does everything in his power to win her trust, Mikayla must choose between remaining alone and safe or letting love in.
Secrets.
Everyone has one.
Some are bigger than others.
And when secrets are revealed,
Some will heal you …
And some will end you.

Kate Sedgwick's life has been anything but typical. She's endured hardship and tragedy, but throughout it all she remains happy and optimistic (there's a reason her best friend Gus calls her Bright Side). Kate is strong-willed, funny, smart, and musically gifted. She's also never believed in love. So when Kate leaves San Diego to attend college in the small town of Grant, Minnesota, the last thing she expects is to fall in love with Keller Banks.

They both feel it.
But they each have a reason to fight it.
They each have a secret.

And when secrets are revealed,
Some will heal you …
And some will end you.
---
Are there any other books/authors you would add to this list?