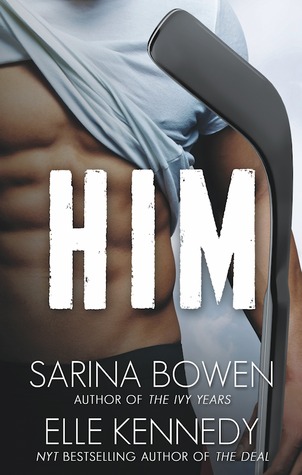 Him by Sarina Bowen and Elle Kennedy
Publication Date: July 28, 2015
Publisher: Rennie Road Books
Synopsis:
Jamie Canning and Ryan Wesley were best friends. They may have only seen each other every summer at hockey camp, but their friendship lasted for years–until their very last night at camp when Wes made the biggest mistake of his life by manipulating his best friend. Wes has no one to thank but himself for ruining their friendship.
Jamie never understood what happened with Wes. One day they were best friends, the next Wes was just…gone. Well, things might have gotten a little weird that last night at camp, but it was no big deal.
Four years later, Wes and Jamie run into each other at the college hockey national championship. Wes wants to apologize. Jamie wants answers. Neither really gets what they want.
Weeks later, Jamie is shocked when Wes shows up to help coach at their old summer camp. This time, Wes is going to be completely honest with Jamie. Wes' big reveal is going to cause Jamie to re-evaluate everything he thought he knew about himself.
My rating: 4 out of 5 stars
As you can probably tell from my reviews of The Deal and The Mistake, I love Elle Kennedy's Off-Campus series. Prior to beginning A Novel Glimpse, I read and loved the first two books in Sarina Bowen's Ivy Years series. So, when I was presented with the chance to read an ARC of their first collaboration together, Him, I was super excited.
I knew going in this was a M/M romance. It's the first one I've ever read. I was curious to see how it was going to go and if I would like it. I knew two men falling for each other wasn't going to bother me…I just wasn't so sure about that other "stuff."
I loved Wes. There was just something about him. I can see why people (and Jamie) were drawn to him. I have to admit, though; I was worried about him the entire book. His feelings were so strong and I wasn't sure how it was going to turn out for him in the end.
I loved Jamie, too. His outlook and openness were amazing. His family was amazing. There were a few times he had me worrying about what his actions were going to do to Wes', but I felt like his story was a really important one to tell.
Jamie and Wes together? Their friendly banter with each other was funny. It was pretty adorable to see two extremely masculine hockey players falling for each other. As for that other "stuff", I didn't find it to be a big deal. Most of it wasn't anything I hadn't read in M/F romances.
Overall, I really liked the story. It was a cute best friends turned lovers romance. I think it's great that two amazing writers are writing stories that anyone could identify with.
Thank you to Nina Bocci and Sarina Bowen for the opportunity to read and honestly review an ARC of Him.