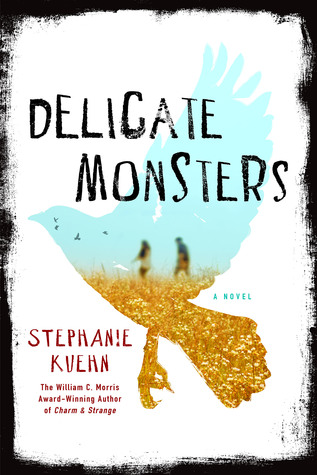 Delicate Monsters by Stephanie Kuehn
Publication Date: June 9, 2015
Publisher: St. Martin's Griffin
Synopsis:
The mean girl returns…
Seventeen year-old Sadie Su is a mean girl. Not the kind of popular mean girl you're imagining, but just plain bad. Even her own father doesn't want to be around her. She's just gotten kicked out of her third boarding school for almost killing a classmate. Now, she's back in California going to the local public school and mandatory therapy sessions. She's trying to be good, but it doesn't come naturally to her. It never has.
…and throws off the delicate balance in the Tate boys' lives.
Emerson Tate is not happy his childhood friend Sadie has returned. He doesn't want anything to do with her, but he's afraid she'll spill his secrets. She represents the person Emerson used to be, not the person he is now. One word from Sadie and Emerson could lose the popularity he's worked so hard to build.
Miles Tate is Emerson's younger brother. You wouldn't know it by the way Emerson treats him at school. To Emerson, Miles doesn't exist. But Miles doesn't blame Emerson. Who would want to be known as the freak's older brother? Miles has always been physically weak, but that's not what makes him so unpopular. Miles is WEIRD. He has seizures and disturbing visions–visions that always come true.
While Emerson tries unsuccessfully to avoid Sadie, Miles is drawn to her. Sadie believes in Miles. She thinks he is telling the truth about what he sees and wants to help him. But is it too late?
My rating: 4 out of 5 stars
Wow. I'm not sure what I was expecting, but what went down in Delicate Monsters was not it. It was dark, disturbing, intense and twisted. This psychological thriller messed with my mind in so many ways. The twists and turns were great and surprising. The characters were tragic. I'm amazed this is a YA novel. It could easily be categorized with adult psychological thrillers.
My only complaint was that it left me feeling really disturbed–more so than most psychological thrillers. The story keeps popping into my mind when I least expect it. Yikes!
I would recommend Delicate Monsters book to those that love a dark and gritty psychological thriller. It's categorized as YA, but I definitely think you would need to be a mature young adult to read this. It's that dark.
Thank you to St. Martin's Griffin and Goodreads First Reads for the opportunity to read and honestly review Delicate Creatures.