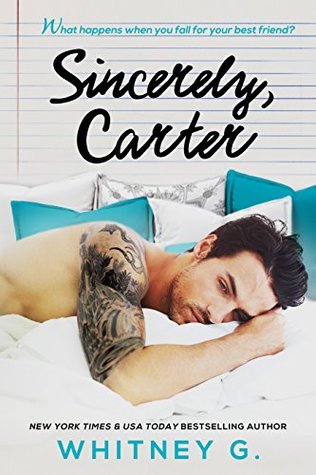 Sincerely, Carter by Whitney Gracia Williams
Publication Date: April 29, 2015
Publisher: WGW Books
Synopsis:
Arizona Turner and Carter James have been best friends since 5th 4th grade.They tell each other everything. Arizona knows all about Carter's sexual exploits and he knows all about her relationships. They would do anything for each other at the drop of a hat.
Over the years, everyone has always assumed they have slept together. How could a guy and a girl possible be just friends? The truth is they have always only been platonic best friends.  And they would never ever cross the line with each other.
Until one night they do. Then, Arizona and Carter are left trying to figure out if they are really just friends or something more.
My rating: 5 out of 5 stars
I love, love, love this book. I love it. Sincerely, Carter was everything I like a book to be. It was funny. It was sweet. It was hot. It brought out the all the "feels". I adored Arizona and Carter's relationship. I loved watching their relationship change and all their uncertainty. This book was just so much fun to me. I didn't want to put it down. I wish I wasn't finished reading it because I want more!  I am going to have to go through Whitney Gracia William's back list and read more of her books.
Sincerely, Carter is a New Adult book and for mature readers only. There is sex and alcohol in the story.